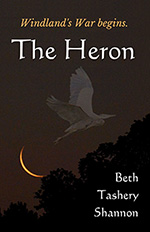 The Heron by Beth Tashery Shannon
When the seer called the Heron dies, the young witch Lark fears an end has come to the magic that gives the Blue Grass its being. For a hundred years the symbolic figure of the Heron has given the people a focus for their resistance to colonization by the conquering Domenes. The discovery of a tomb chamber holding no body but a treasure guarded by a dangerous "changeling" carved in wood convinces Lark that the rightful Heron is the living man the changeling resembles. But Windland, a road tramp in Domene employ, is the last person who'd ever want the job. When a Domene military commander blackmails Windland's wife into spying on her husband's village, a struggle begins that will not be satisfied with the sacrifice or salvation of lives. The cost must be reckoned in the spirit of the land and the souls of its people.
Buy it at Amazon | Barnes & Noble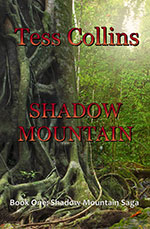 Shadow Mountain by Tess Collins
At the peak of Shadow Mountain lives a woman who holds to the old ways of magic and conjuring. Delta Wade protects ancient mysteries for her son, Lafette, hoping he will grow up to wield those powers for the good of humankind. But the epoch of witch lore is giving way to an age of industrial titans greedy to control the mountains' resources for material gain. As one man seeks to destroy Delta, another offers his love as salvation. Mother and son struggle with an enigmatic past only to find that true magic shows its power in its own way and in its own time.
Buy it at Amazon | Barnes & Noble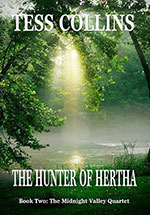 The Hunter of Hertha by Tess Collins
Connor Herne loves the eastern Kentucky mountains. When he finds barrels of nuclear waste in a secluded hollow, he never imagines that years later his daughter will suffer the consequences. After a high school friend's car is blown up, he can no longer ignore that people he'd trusted his entire life are murdering the land as well as anybody who gets in their way. With the help of a blue man, a country preacher, and a childhood renegade, he plots the downfall of a small town dynasty only to discover the key to his own mysterious past.
Buy it at Amazon | Barnes & Noble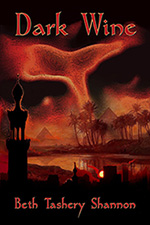 Dark Wine by Beth Tashery Shannon
Catherine has left her career and friends to accompany her artist husband to Egypt, but his work engrosses him, leaving her rootless and lonely in the mystifying city of Cairo. A chance encounter with a stranger plunges her into a dangerous affair. Passion wars with terror when the man who loves her intensely and tenderly claims his love will kill her.
Erotic content.
Buy it at Amazon | Barnes & Noble
Notown by Tess Collins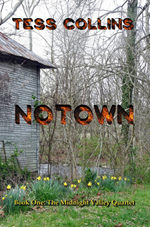 Randi Jo Gaylor's family is poorer than dirt. Yet the little girl survives with an optimistic attitude despite imagining a Fear Angel haunts her. Through four decades, she covers up murder and betrayal by others until a threat against her daughter forces her to take an action she never thought herself capable of... killing a man she'd once loved.
Buy it at Amazon | Barnes & Noble
Tanglevine by Beth Tashery Shannon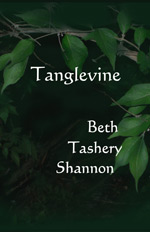 Demoted war hero Jihan arrives in the Bluegrass to extend the Domed City's power and salvage his family's reputation. When a fellow official disappears, he commandeers a horseback caravan as backup and rides to the remote village of Tanglevine to investigate. Windland, the caravan leader, guides him through bewildering woods to a blighted village where only the locals' respect for Windland shields them from resentment. The savage killing of a young woman and her child provokes Jihan to vow justice, but deceived by the villagers, targeted by a hostile witch and seduced, then betrayed, by an elusive dancer, he begins to suspect that Windland has an agenda of his own. Gradually Jihan realizes that instead of a hunter pursuing a murderer, he is the prey of a hunter far more ancient than he. If he cannot believe in the impossible, the woman he loves will be destroyed.
"Tanglevine comes from Shannon's ancient imagination, an original place where Kentucky dreams a dream of itself."
—Gurney Norman, Kentucky Poet Laureate
Buy it at Amazon (Kindle - trade paperback - hardcover)
The Art of the Traditional Short Story by Lester Gorn and James N. Frey
2013 Beverly Hills Book Award winner: Short Story category
2012 ForeWord Magazine Book of the Year Finalist
A traditional short story has a beginning, middle, and end; it features dramatic conflict and dynamic characters struggling to achieve goals where the stakes are high. Traditional short stories end with a strong climax that reveals dramatic transformations in the characters. Such stories have a hypnotic power that makes the reader dream the fictive dream. Traditional short stories are highly emotional, they will often make you laugh or cry, be frightened or terrified, and they usually say something important about human nature. The best of them will stay with you long after you read them, perhaps years. Perhaps a lifetime.
Buy it at Amazon (Kindle - trade paperback - hardcover)
2013 Beverly Hills Book Award winner: Regional category
2012 ForeWord Magazine Book of the Year Finalist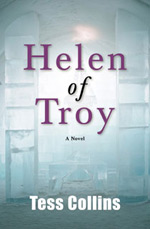 Helen of Troy is a quirky and lively retelling of the classic Greek legend in small-town America. Helen Ramsey and her good-old-boy husband, Rudy, fight like caged roosters. When their bachelor neighbor becomes Helen's confidant, rumors spread and sides square off until the entire town joins the ruckus. After Helen is kidnapped by her would-be lover, Rudy resorts to a clever Trojan Horse stratagem, and Helen wages a war worthy of a goddess. But will even that be enough to triumph over the gossip of a small-town Cassandra?
"Ranking near to The Story of Edgar Sawtelle—David Wroblewski's take on Hamlet—in great rewritings of classic stories, Helen of Troy demonstrates that love and battle can be as epic in a tiny, isolated town as they are in the legends of ancient Greece. Collins brings the quirks of the small Appalachian town to life through realistic characters and well-chosen scenes that depict both the ordinary and the outrageous."
—Feathered Quill Book Reviews
"A beauty that was went to war for. Helen of Troy is Tess Collins' modernized retelling of the ancient epic, bringing it to modern America, and the personal wars we wage over each others' lives and the extent to which we will go for one another. Enticing with a good dose of humor thrown in, Helen of Troy should prove hard to put down for those who enjoy reworked classics; much recommended."
—Midwest Book Review, Willis M. Buhle, Reviewer
Buy it at Amazon | Barnes & Noble
© BearCat Press LLC.